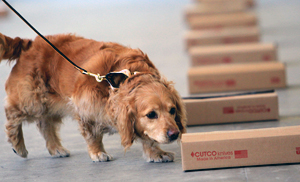 Here's a great opportunity to get started in another dog sport.
Inspired by working detection dogs, K9 Nose Work is the fun search and scenting activity for virtually all dogs and people. This easy to learn activity and sport builds confidence and focus in many dogs, and provides a safe way to keep dogs fit and healthy through mental and physical exercise.- k9nosework.com
Class Details
Starting Wednesday, November 1st at 6 pm.  This is a 6 week long class.  The location is downtown Idaho Falls at 447 Park Ave.
Additional Information
For additional information:
Contact Information
Lois Olson has offered to organize and teach a Nose Work class for the club.  If you have questions, call or email Lois at 208-524-2958 or email at solospec@ida.net
Registration
PRE-REGISTRATION is required.
Classes are limited to space available.  Register early to secure your spot.
Registration is accepted on a first come, first served basis.
Registration forms and payment must be received no later than 10 days prior to the first day of class.
If the class is full you may add your name to a waiting list in the case that a slot opens up.
Online payment options for check, credit card, or PayPal are available.
Cost
Non Members: $75.00
Senior Discount (55 and older): $55.00
Dog Adopted from Shelter or Humane Society: $40.00 (must show adoption papers, reduced price is for first time through classes only)
Second Dog in Same Family: $60.00
Inactive Club Members: $35.00
Registration Forms
You should submit your registration form after completing the payment and receiving a confirmation number.
Map
The location for this class is 447 Park Ave. Idaho Falls, Idaho
Recent News
No Recent News