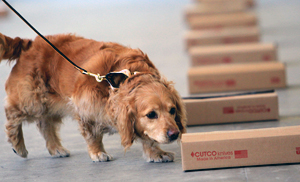 Goals
Dogs love nose work classes!  They will get to learn how to pick out a scent from one of many boxes.  They will learn how to perform interior and exterior searches.  They even learn how to pick out a buried scent.  This class will provide you with the foundation if you would like to pursue the many scenting/nose work titles from AKC and/or NACSW.
Next Class
There was so much interest in the last class that Lois has graciously offered to teach this class again.
The next class will start Monday, January 8th, 2018 and finish February 12th.  Classes start promptly at 6 pm.  Classes meet every Monday for a 6 week period.  Classes meet in downtown Idaho Falls.  The location is 447 Park Ave.  As this class meets inside, please prepare to have a portable crate for your dog during instruction and while waiting for their turn to scent.
This class is limited to 10 spots.  Please register early.
Registration
PRE-REGISTRATION is required.
Classes are limited to space available.  Register early to secure your spot.
Registration is accepted on a first come, first served basis.
Registration should be completed online using the online store.  Your slot is reserved when you have finished checking out.  You will receive a confirmation email when your order is complete.
Payment must be received no later than 10 days prior to the first day of class.
If the class is full you may add your name to a waiting list in the case that a slot opens up.
Online payment options for check, credit card, or PayPal are available.
Cost
Non Members: $75.00
Senior Discount (55 and older): $55.00
Dog Adopted from Shelter or Humane Society: $40.00 (must show adoption papers, reduced price is for first time through classes only)
Second Dog in Same Family for a single class: $60.00
Inactive Club Members: $35.00
Requirements
Minimum Age for Dogs is 6 months of age
Due to the nature of the class dogs that are dog or people aggressive are not suitable for any of these classes
Preparations
The training director will send an email to all students with orientation type information before the first class.
At classes you will need to bring:
Bring a crate for your dog while they are not working
Bring lots of very smelly treats
Make sure your dog is on a buckle collar with lead
At home you will need the following for practice.  We will discuss these in detail at the first class:
Boxes
Scents – We will start with Birch, but you may also want to consider Anise and Clove
Q-tips
Scenting tin
You may also go online and there are lots of different sites where you can order the whole scent package together
Additional Information
For additional information:
Contact Information
If you have questions about this class, feel free to call or email
Nose Work Training Director: Lois
Phone: 208-524-2958
Email: nosework@usrvdtc.org
Map
The location for this class is 447 Park Ave. Idaho Falls, Idaho
Recent News
No Recent News